Waiver of Re-Hiring Upheld by Court of Appeal in Unpublished Decision
Sometimes, the item holding up a perfectly good settlement is the issue of whether an injured worker is willing to permanently sever his or her relationship with the employer.  After all, no all workers' compensation claims are about real injuries – sometimes the they are just one other instance in a feud between an employer and an employee.
Labor Code section 132a prohibits employers and insurers from discriminating against employers for discriminating against employees who file for workers' compensation benefits, but typically a resignation is a necessary part of settlement for the purposes of a Compromise and Release (as opposed to stipulations).  But what about issues of hiring and, more importantly, re-hiring?
The Court of Appeal recently issues an unpublished opinion in the matter of Homeport Insurance Services v. William Lundy.  Lundy had sustained an injury and sought benefits under the Longshore and Harbor Workers' Compensation Act.  Part of the big cash settlement was that Mr. Lundy would never seek re-employment by any of Homeport's insured employers again.
Mr. Lundy, after cashing his check, started taking jobs from his union hall for the same employers, and Homeport sued for specific performance of the agreement.
The Superior Court Judge granted plaintiff's motion for summary judgment, and Mr. Lundy appealed, arguing that Labor Code section 132a and general public policy prohibits the enforcement of this clause in the contract.
In its (unfortunately) unpublished opinion, the Court of Appeal affirmed the trial Judge's ruling, reasoning that a contract is a contract is a contract, and whatever public policies are stated by Labor Code section 132a fail to override the public policy of encouraging settlement and protecting the parties' rights to contract for their mutual benefit.
Now, your humble blogger can't help but wonder about the ripple effect of this opinion.  Granted, there is no citable authority as yet, but employers often have very good reason to be rid of a litigious employee.  Often enough, a good, solid employee that is the victim of an unfortunate accident at work has the support of his or her employer who wants him or her back – good help is very hard to find, after all.
But there are also lazy employees who resent their employers, and think of workers' compensation as a form of "blue collar lotto" where the slightest paper-cut should entitle them to a life of jobless ease.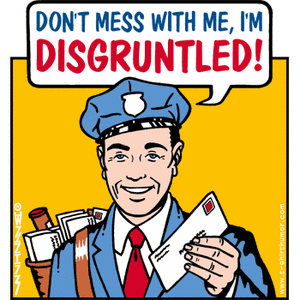 So, what's to stop an employee from resigning as part of a Compromise and Release from immediately applying for his or her old job?  "Hey – you're going to need someone to fill that post, and who knows it better than me? You won't even need to train me… I did this job for five years already.  What? You won't hire me?!?  That's just because I filed a workers' comp claim!  That's discrimination!"
There have been past cases on similar facts.  For example, in the writ denied case of Lois Wood v. County of Alameda, the WCAB upheld the WCJ's finding that employer had violated LC 132a in failing to return workers to vacant positions when objectively more qualified applicants were seeking that same position.
Similarly, in the writ denied case of Michael Phillips v. City of Rialto, the WCAB also affirmed the WCJ's finding that the employer had violated LC 132a when it failed to follow its own policy of rehiring past employees after layoffs if the same position should become available.  But neither of these cases dealt with employees resigning as part of a settlement agreement and then re-applying for the same position.
Whatever results this effort might have at trial, the employer would still be faced with the prospects of potentially costly litigation.
Perhaps this is a strategy worth exploring – having the employee agree to never seek re-employment with the employer, or at least for a number of years (10-15).  At the very least, such a maneuver should take the issue out of the "fuzzy" law of workers' compensation and into the cold, merciless review of the Superior Court.