WCAB Issues En Banc Opinion on Lien Claimant Burden of Proof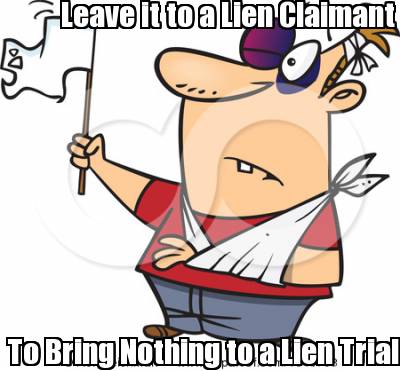 Another blow for lien claimants in California, and a big boon for the rest of us!
The Workers' Compensation Appeals Board has issued an en banc opinion in the case of Tito Torres v. AJC Sandblasting.  The case-in-chief had already resolved (in 2005) and a lien was filed by Green Lien Collections for a lien claimant in 2010.
Prior to proceeding to trial, the workers' compensation Judge warned the lien claimant:  "should it choose to proceed to trial without benefit of evidence or testimony that the Court would sanction Petitioner for frivolous waste of Court time and assess costs against it."
But, not heeding the warning of the WCJ, the lien claimant proceeded to trial, relying on one solitary scrap of evidence:  an unsigned insurance form from the lien-claimant.  No written description of goods or services was included… just a total bill.  In his report, the WCJ described lien claimant's actions as a "cavalier use of the limited Court time and resources."
The lien was disallowed and sanctions were imposed, so the lien claimant filed a petition for reconsideration.  Things only got worse for the lien claimant from there…
In its en banc opinion, the WCAB noted that, "[w]hile this decision does not annunciate any new legal principles, we deem it necessary to act en banc because of a number of lien claimants who persist in disregarding existing law as to their burden of proof and repeatedly proceed to trial on lien claims that are so lacking in evidentiary support and/or presented with such a total disregard of existing aw as to be frivolous.  These lien claimants overburden the system, waste the limited resources of the [WCAB] and squander valuable calendar time, which otherwise could be used to address the claims of injured workers." (Emphasis happily added by your humble blogger.)
So, what's the real skinny on the WCAB's holding?  Well, first-off, the WCAB held that the 1993 amendments to Labor Code section 3202.5 and section 5705 invalidated the California Supreme Court decisions in Keifer and Garcia, "insofar as they held that a lien claimant can establish a prima facie right to recovery simply by introducing a billing statement showing that services were provided to a worker in connection with a claimed injury."  Additionally, the WCAB held that bringing an evidentiary knife to a lien-trial gun-fight "is frivolous and constitutes bad faith within the meaning of section 5813 justifying an award of sanctions…"
Now, bear in mind, dear readers, your humble blogger has witnessed steadfast defense attorneys bearing verbal lashings from WCJs for refusing to pay up on "minor" liens and wasting the Court's time by demanding that the lien claimant produce documentation sufficient to meet its burden of proof prior to payment.  (Your humble blogger invites you to contemplate the money being "wasted" and where it came from; only one party actually pays for the workers' compensation system.  Here's a hint – the name of this party begins with the letter "E" and rhymes with "lawyers.")
So if you encounter a WCJ wanting a pound of flesh for keeping the lights in the courtroom on, point to this case and invite surgery upon the lien claimant.  Thanks to this case, the defense has citable, binding precedent for recovering attorney fees for frivolous trials.
Here's another thought – if you're in a situation such as this, you might not have the benefit of the WCJ warning the lien claimant that a beat-down is coming unless it can "produce the goods" at trial.  So, it might be a good idea after the deadline to serve exhibits has expired, to write a letter to that effect.  (Attorneys should consult Rule 5-100.)  This should help lay the groundwork for recovering attorney fees down the line.