Hello, dear readers!  Thank you all for your kind notes of concern – your humble blogger barely survived being washed away by the storm that slammed into the Bay Area this past Thursday and Friday.  The devastation is heartbreaking, but, rest assured, your humble blogger is determined to march onward!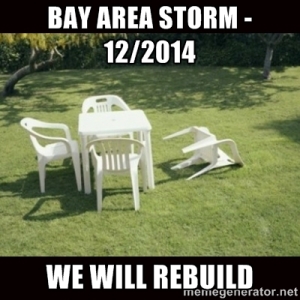 Just as the skies let forth their blessings on the reluctant recipients of San Francisco and the surrounding areas, so, too, your humble blogger will rain down his wrath upon his luckless readers in the form of another blog post.
The case I bring to your attention today is that of Coon v. Swift Transportation.  Applicant was a student long-haul truck driver out on assignment when he took a dinner break, only to be viciously assaulted after parking the truck and walking to get dinner.  The employer's policy was to have drivers stay with the trucks in "high theft areas," which, apparently, includes the entirety of Southern California.  (By contrast, Northern California is regarded as an area of high awesomeness, so there!)
Even after the arrest of the assailant, there had been no allegations of any personal connection between the assailant and applicant.  So, in all likelihood, this was "nothing personal" and really about either hurting an unfortunate victim, or effecting a robbery through extremely violent means.
The WCJ and the WCAB both found the injuries sustained as the result of the assault to be compensable.  Applicant was a commercial traveler, in that he was traveling with the truck on the way to a delivery.  So, even when he stopped to rest, sleep, or eat, he was still "on the job."  Furthermore, he was following his employer's instructions to stay with the truck to prevent theft.  In fact, it is entirely possible (and probably likely) that had he left the truck in a parking lot and retired to a hotel for the night, he and the assailant would not have crossed paths.
Another point of interest in this case, however, is that the defense apparently cited to the case of County of San Bernardino v. WCAB (Tuttle), a 1997 Court of Appeal case that was NOT Published.  In Tuttle, the Court of Appeal ruled that the victim of an assault failed to carry his burden in showing that the assault was related to his employment.  Presumably, when taken with the Court of Appeal's ruling that Labor Code section 3202 is inapplicable when the compensability of an injury has not yet been determined, the defense had an argument against compensability.
In its opinion, the WCAB cautioned the defense against relying on unpublished opinions, as such behavior is expressly prohibited by California Rules of Court 8.1115.  However, in this case, does it matter?  Even if the injury were not otherwise compensable – even if the assault were of a personal nature completely unrelated to his job duties… he's a commercial traveler!
May you have an easy week, dear readers, and, of course, Happy Channukah!