Putting Healthy Workers on ICE Over in Federaliville
So sorry for my recent absence, dear readers.  As you may recall, your humble blogger posted an argument advocating a statutory reduction in applicants' attorney fees, limiting the 15% usually collected to gains made above what the worker was able to obtain in propia persona.  
A couple of applicants' attorneys confronted me after a hearing, and it was made clear to me that I could continue to advocate limiting applicants' benefits with impunity, but any further attempts to threaten AA earnings would be met with considerable displeasure on my part.  After some time spent in a CAAA holding cell, I was able to escape using my MacGyver tool kit, which consisted of a straw, a rubber band, and a paperclip.
Anywho, I bring you an interesting story from the domain of the Federal Government today.  As every school child knows, the Federal Government, like all government entities, has a solid track record and reputation for only collecting in taxes the money it truly needs, and going to great pains, both as a whole and through its individual federal employees, to make sure the public's money, trust, and good will is never squandered or wasted.
So, I was greatly shocked to discover that over $1 million had been paid to five employees in off-work benefits after the employees had been medically released to return to work!
The internal audit also revealed that Immigration and Customs Enforcement management failed to investigate claims or keep an eye on them as they progressed.  It's almost as if they didn't care if money got wasted because they had an endless pool from which they could always draw.  An ICE official, Special Agent Vanilla, ICE, reached for comment, had this to say: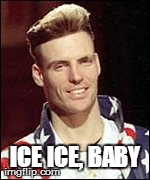 Anyway, for all of us that are not in the position of complacently wasting the wealth of others, this serves as a good example of what not to do, and an excellent reminder for us all to be alert.
We don't have endless funds to waste, neither funds for one worker ready to work but slipping through the cracks, nor all his co-workers who might get wise that no one is minding the store.
So let's let this be a reminder to all of us to keep on top of our cases, and make sure we don't end up paying healthy folks not to work.
Have a good weekend!