CHP Officer Sentenced in WC Fraud Case
My wise and beloved readers will recall that I previously blogged on the case of (former) CHP Officer Tony Yao.  Recently, convict Yao was sentenced to pay $80,555.15 in restitution, give years of formal probation, and a stayed term of 240 days in county jail (if he can get into the Sheriff's work-release program).
I will allow this grammatically challenged rodent, which appears to be a river otter, to communicate my reaction: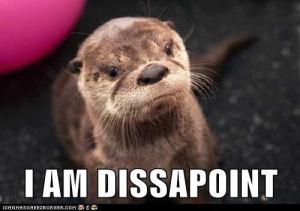 Mr. Yao was a CHP officer, who not only bore the responsibilities placed upon any citizen for the preservation or benefit of society, but also bore the additional duty of a law enforcement officer.  The damage done by Mr. Yao goes beyond the dollars and (non)sense of committing workers' compensation fraud (see what I did there, dear readers? Aren't I clever…?)
How can we seek justice for employers and insurers when they are defrauded by lying workers when law enforcement officers are engaged in the same behavior?
Here's to hoping that future transgressions meet with stiffer punishment, because, from your humble blogger's vantage point on his high horse, having to pay back some of the benefits received and possibly having to wear an ankle bracelet does not offer sufficient deterrence value for behavior as damaging as this.
But, then again, perhaps someday your humble blogger's humble blog posts will merit a punishment as well…