WCAB Doesn't Inhale: No WC Reimbursement for Marijuna (Yet)
Hellooooo Narcs!  Clear the smoke, dear readers – the WCAB has again declined to order a defendant to reimburse an applicant for the cost of medicinal marijuana.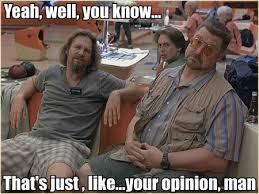 In the recent panel decision of Cockrell v. Farmers Insurance, the WCJ found that applicant was entitled to reimbursement for medical marijuana.  The case was previously before the WCAB back in 2012, when the parties were ordered to consider Health and Safety Code section 11362.785(d), which holds that "[n]othing in this article shall require a governmental, private, or any other health insurance provider or health care service plan to be liable for any claim for reimbursement for the medical use of marijuana."
The issue was remanded and came up to the WCAB once more.  In a recently issued panel decision, the WCAB instructed the parties to revisit the issue on the trial level once more, to determine whether workers' compensation insurance constitutes a "health insurance provider" to determine if section 11362.785(d) directly applies to workers' compensation benefits.
The panel opinions seemed to suggest, at least to your humble blogger's reading, that the commissioners were initially inclined to find that a workers' comp insurer does NOT have to provide reimbursement for marijuana.  However, if the defendant were to argue that an order to reimburse applicant for his marijuana purchases would violate federal law, the commissioners need only point to the Mota v. Allgreen Landscape case, where a workers' compensation defendant was forced to hire an applicant's wife, who could not produce proof of the legal right to work in the United States, to provide in-home care.
This is an important issue to address, but perhaps the WCAB is not the place to address it.  More states are moving to recognize medicinal and even recreational use of Marijuana, and, depending on the administration, prosecution of Marijuana use might decline here and there.  California itself, might gradually move to more lax Marijuana laws.
But, for the time being, it is a question that needs answers – must an employer provide reimbursement, if not physically deliver, the marijuana to applicant?
Of course, if it does prove too expensive, perhaps we should ask around if anyone "knows a guy."