WCAB: No non-Treatment Reports to the PQME!
Correction: This is a PANEL decision denying removal, and NOT a writ denied case – the Humble Blogger.
Hello, dear readers!
Your humble blogger brings you greetings this Wednesday, with a report on the matter of the recent case of Roberts v. City of Los Angeles, in which the WCJ found, without reversal by the WCAB, that defendant's efforts to keep certain records away from the PQME should be crushed!
Applicant claimed a cumulative trauma and the parties, unable to agree on a medical evaluator, obtained a panel.  Defendant argued that it should be able to send the PQME certain non-medical information, namely the report of an independent epidemiologist who was not made part of the case by the treating physician.
The WCJ denied defendant's request, reasoning that Rule 35(e) specifically prohibits sending a PQME "any evaluation or consulting report written by any physician other than a treating physician, the [PTP] or secondary physician, or an evaluation thought he medical legal process… unless that physician's report was first ruled admissible by a [WCJ]."
The WCJ opined that the report by defendant's retained epidemiologist appears to be an expert report with an analysis on industrial causation and a defense-friendly conclusion.
The WCAB denied defendant's petition for removal.
If this sounds familiar, my beloved readers may recall a blog post or two on 4050 exams, which the WCAB seems keen on keeping away from QMEs.  Although the 4050 exams seem to be acceptable for the purposes of preparing defense attorneys for cross examination of QMEs, 4050 reports, or independently retained expert reports, are not to be put before the QME for consideration.
But, here's what your humble blogger is missing… aren't we all familiar enough with the show Jeopardy to phrase our answers in the form of a question?  If you already have the reasoning and the conclusions from your own expert, why can't those theories be phrased as questions in a cover letter to a QME?   Why can't they be used to guide cross-examination or a supplemental report?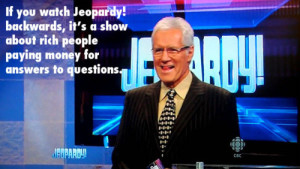 Of course, your humble blogger is disappointed in any defendant's call for aid to be unanswered by the WCAB commissioners, but there are surely greater tragedies in the world.
Happy Wednesday, dear readers!